Jan 30, 2008
Published Jan 30, 2008
PODCAST SHOW NOTES
The Genealogy Gems News Blog: "Why should Lou Dobbs Care?". And be sure and vote on the new poll question: How do you listen to the podcast?
Family History Expo 2008 in St. George, UT. I'll be attending the Friday night Banquet and I want to invite you to come sit at my table with me. If you're going to be a the Family History Expo, have purchased your banquet tickets (available online at the MyAncestorsFound.com website,) and you would like to dine together, drop me an email at with your name. (and anyone you might be attending with) Confirmation will be by email.
Thanks to the Scottish Falsetto Sock Puppet Theatre and DearMYRTLE for their recent acknowledgements of The Socks To America Video. Watch The Socks To America
MAILBOX:
(Left to right they are Guy M. Denton, Gladys V. Denton, Dorothy J. Denton and Guy V. Denton.) "Guy V. Denton 1895-1959 purchased this quilt from a lady from Arkansas who was traveling through Howard, KS. It's obvious that it was not made with new materials as it did not wear well." Kevin Clark, Cedar Park, Texas
From Deb Atchley: "my quilters only gave me initials - not full names and birth dates. I think I've solved most of the puzzle though."
From: Linda Kvist - Pod Cards in Reunion 9 genealogy software
I don't know if this is possible to do in any other genealogy software, perhaps you or any listener know?
GEM: Traits Handed Down
African American Lives

African American Lives the book

Chris Rock and Oprah arenât the only ones who have found significant tendencies and traits surface in their family history. I feel compelled in this episode to share my top 10 list of important traits that I inherited from my ancestors!
GEM: Care, Storage & Display of Heritage Quilts with Ellen Koehn
Quilt by Ellen Louise Koehn that hangs in Lisa's home...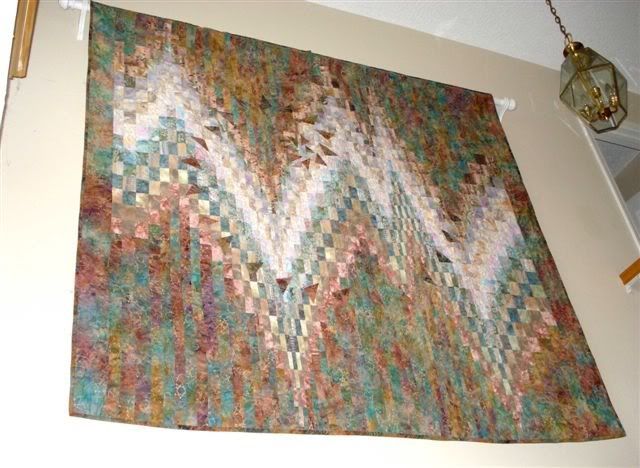 PLEASE NOTE: All of the recommendations in this gem are
"Use at your own risk." While they are things that have worked successfully for our guest, you must use your own judgment as to who to proceed with your own unique quilt.
At the grocery store: Orvis Soap & Easy Wash. Ellen also recommended the book Clues in the Calico by Barbara Brackman